Taste Prevails: JWoww's Filthy Couture Line Closes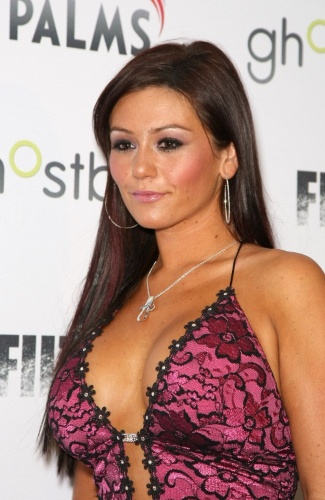 In news that will disappoint strippers and value-priced escorts everywhere, Jenni "JWoww" Farley's Filthy Couture line has shuttered.
Radar reports that the clothing line was forced to close amid a threatened lawsuit by a company with a similar name. Sadly, the suit was not brought about by Couture, tired of having its good name abused by girls who identify themselves as filthy or juicy. Apparently the overpriced crystal studded "clubwear" did find a following: "Money needed to be returned to the people who had ordered clothing," a source told Radar.
While this unnamed source claims that the pressures of running a clothing line were too much for the Jersey Shore star to handle, JWoww tweets that online sales have been stopped because she's designing a new fall line, and waiting on her management to place the line in stores – so her fashion experiments will be back. And, while we're still not sold on the clothes, JWoww has at least been able to master the art of the website redirect – something that eludes the digitally "gifted" Roberto Cavalli. FilthyCouture.com now takes visitors to JWoww's personal site where you can get the latest news and sign up for the JWoww social network to commiserate with other lace and spandex enthusiasts.
In all seriousness, the saddest part of this story is that JWoww's online fashion promotion abilities are better than many larger brands. The clothes aren't for everybody, but kudos to her for putting a real effort into making those 15 minutes worth something.