Tavi Gevinson is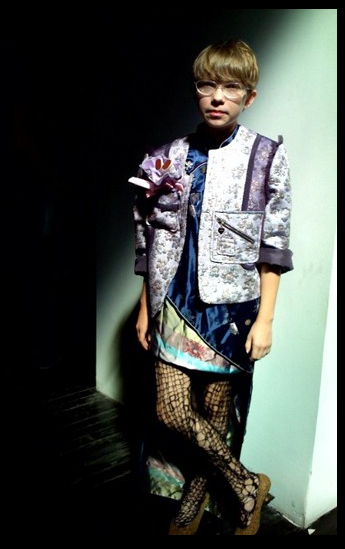 A thirteen-year-old fashion blogger from Chicago with a penchant for Rei Kawakubo, an impeccable eye for vintage finds and a charming sense of humor.
Attending the shows and after parties wearing homemade (and self-proclaimed "obnoxious") headpieces, an upside-down doll in her pocket and the compliment of a fashion editor who likened her style to Anna Piaggi's
On the cover(s) of Pop's first issue since the re-launch.
Blogging for them too.
(According to her blog): "like annoying photographers that follow cool people around only with a crappier camera and obsession with customized jackets".
The champion of New York Fashion Week, and quite likely the next few decades.
Read more [Style.com]
Read More [WWD]
Read More [The Frisky]