What Do Lady Gaga and Jennifer Aniston Have in Common?
They're joining JLo, Katy Perry and Kate Moss on coveted September magazine covers. The September issue of most fashion magazines is the biggest and most important of the year. We recently posted a quick look at three noteworthy September 2010 covers, and now there are two more to add two more to the list. These extras come with significant stories within the magazines pages to complement the cover images.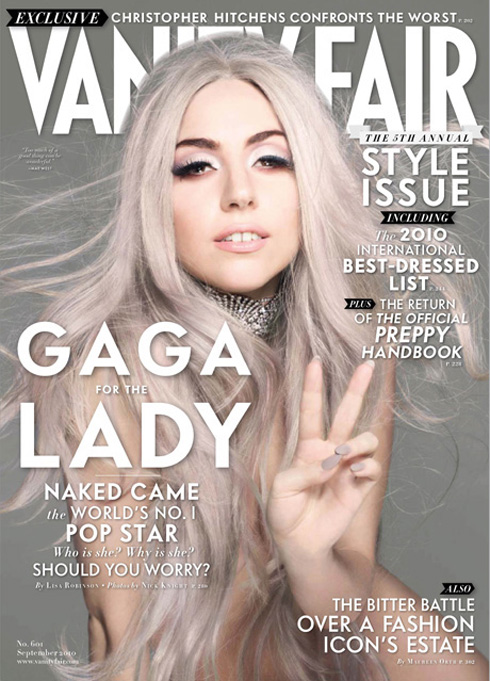 First up, Lady Gaga's Vanity Fair cover photo is part 60s rock 'n roll mother earth (a la Janice Joplin) and part futuristic essence that is Gaga's signature. The peace sign she wields along with her hooded-eye expression provide the classic rocker element, while the long grey hair covering her naked, pale body adorned with a diamond choker and pastel makeup add in the futuristic quality.
The Gaga story that starts on page 280 is far from the most comprehensive or intriguing portrait of the megastar's life that has ever been written. What makes the feature noteworthy are the photos, shot by Nick Knight. The photograph of Gaga in a custom-made Armani Prive metal corset and transparent dress, worn with lace-adorned platform boots and her grey hair in disarray over her face, is particularly spectacular.
Gaga's last magazine cover was overshadowed not by her own story or machine gun bra cover story, but by off the cuff comments made by General Stanley McChrystal. Those comments forced his resignation, so any controversy this time should safely belong to the Lady.
Also noteworthy for September is Jennifer Aniston on the cover of Harper's Bazaar. Like the Gaga feature, the photos overshadow the story, though this time just a bit. Aniston channels her own personal idol, Barbra Streisand, in stunning photos in which she captures the singer/actress' personality and mannerisms beautifully.
On what she thinks the reaction to the feature will be, Aniston told Harper's Bazaar, ""I have no idea what people are going to think about it. Everybody has an opinion; it's just what people love to have. But that's okay. Art is so subjective, and people can react however they want."
Streisand's reaction? "I was very flattered that Jennifer Aniston chose to interpret my style with the photos in Harper's Bazaar. She's a delightful person, and I think she did a wonderful job. If only she had a bump on her nose."
Read more of the cover story and see the photos at Harper's Bazaar.