Whitney Thompson's Misguided Remarks On Thin Models
We know we declared last week that everyone should stop talking about plus-size girls in fashion so that maybe they will become more of a norm rather than a tactic for grabbing attention, but it shouldn't come at the expense of shifting negativity towards thin women. Whitney Thompson, America's Next Top Model's first ever plus-size winner, has sounded off with The Huffington Post for the way plus-size models are treated in the fashion industry.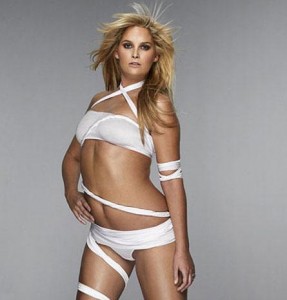 Among the things she said were that Karl Lagerfeld's acceptance of plus-size models as the photographer for the plus issue of V is phony because he previously denounced full-figured women as irrelevant to fashion, and that plus-size models are not truly becoming a part of fashion just because a few select girls have been able to land a limited number of magazine covers and runway slots.
Fair enough, Whitney. There is absolutely nothing wrong with a plus-size model – or anyone for that matter – calling out fashion leaders for using full-figured girls as a spectacle and declaring plus-size is in when size 0 is still the norm.
Here's what we're more concerned about. Check out this line she fed The Huffington Post:
"It's infuriating because we have to be excited, we have to be thrilled that there's one issue that has girls who eat."
Not okay, Whitney. We understand that anorexia is a serious issue among many models and that poor health and body image among models is something of concern in the industry. That does not mean that every straight-size model does not eat. Some women are naturally very thin. They do not starve themselves or exercise obsessively or regurgitate everything they eat. That is just how their bodies are naturally formed, and it is beautiful and every bit as real as curves.
Standing up for equal treatment and inclusion for girls who are above a size 2 in the fashion industry is perfectly fine, but there is no need to put down women with those size 0-2 body types while you are doing it.
A fairly recent blog post over at the gloss could not have put this more perfectly. Check it out here. And think twice before declaring another woman unreal or unhealthy based on her body type, no matter what it is.