Will a Fashion Night In Beat Fashion's Night Out?
Tomorrow, on November 1st, Vogue UK will launch Fashion's Night In as the online counterpart to Fashion's Night Out. For a number of reasons, the American Vogue team would be smart to pick up on the idea.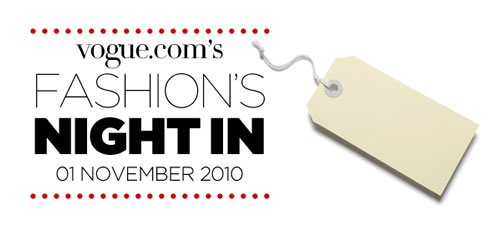 This year, New York's Fashion's Night Out got its own TV special, and the celebrity appearances from 2009 were even bigger and better. Bergdorf Goodman's star studded events featuring people like Tom Ford, Victoria Beckham, Nicole Richie and Mary J. Blige among many, many others drew a line that wrapped around the block for much of the evening, and crowds filling the streets.
Even with a love affair with Tom Ford that goes back to his early days at Gucci, the prospect of waiting in a line for 2 hours was enough to make me decide to save the fawning for a future fashion event. A few blocks away, Payless hosted collaborators Patricia Field, Isabel Toledo and Christian Siriano. While the line was nowhere near as outrageous, it was still a slow shuffle into the store, up the stairs and out the door as soon as people had their opportunity to snap a picture with their chosen designer. I, again, lost patience, but did notice that the Steve Madden next door to Payless had no celebrities, and no lines, but a small yet steady stream of people browsing the shoes on display.
It's been impossible to track down any hard sales figures for Fashion's Night Out, and our emails and calls for comment by participating merchants are still unreturned. So while the evening was successful in generating a massive amount of buzz, it's not unreasonable to imagine the heavy crowds drawn in by celeb heavy events may not have done much for business. These weren't the type of crowds lured in by the promise of dirt-cheap items (as is the case for many Black Friday shoppers) or one heavily anticipated object (a la the iPhone or iPad), ready to whip out their credit cards and shop. The promotion and events may have been spectacular, but the silence makes us think the bottom line returns were lackluster in comparison.
What does that have to do with Fashion's Night In? Well, while it probably won't generate the same amount of hype that taking a picture with your favorite designer or fashion icon does, when it comes down to immediate sales that may not be a bad thing. Most of the Fashion's Night In promotions are centered around shopping perks like free shipping, product line launches, prize drawings and the occasional free gift with purchase. Taking a page from flash sale sites, the various promotions are time sensitive and only available during certain hours.
Free shipping or a gift with purchase may not be as exciting as meeting Tom Ford, but for people on the fence about making a purchase those are the kind of things that are probably more likely to push a decision to buy. Â Plus, the one thing that clicks retailers can (usually) offer that bricks retailers can't is the option to shop without having to fight crowds. The Outnet's anniversary sale proved that there are occasions when you go through similar headaches, but in general a massively popular online event will still be less stressful than an in-store event.
Lest you think shopping at your desk (many of the events start around 5pm London time, which is 12pm EST) while eating lunch is an anti-social experience, many of the stores are offering feedback and shopping suggestions via Twitter for the evening.
Visit Signature9 UK on Monday for our shortlist of events to bookmark. While the event is organized by Vogue UK, many of the retailers ship to the US (and other countries around the world).