You're Invited: Target Hosts All-Night Fashion Party with Zac Posen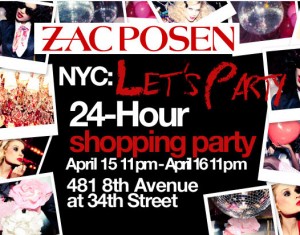 If you love fashion like we do you know how rare it is (unless you're a celebrity or something) to get a sneak peek or a chance to buy your favorite designer labels before the collection is fully released to the public. Well, if you're in Manhattan right now you have until 11pm tonight to do just that. Go on early bird, you'll probably get the best selection if you start shopping while everyone else is sleeping.
Zac Posen has released another runway-inspired line for Target, after a hugely successful previous release, which will debut April 26th. The anticipation must be too much to bear because Target is launching its first-ever 24-hour shopping party-complete with designer Zac Posen himself.
The whimsical and fantasy-filled collection spans the spectrum of femininity to androgyny. Women's suits and long floral gowns are indicative of what you should expect to see a full 10 hours before the line goes public. There are plenty of brights and floral prints to keep in line with the more upbeat feel of clothing this spring that's lifting spirits and sales.
We love the idea of an all-night party, and adding shopping to the mix is an all-around dream come true. We can't wait to get our hands on some of the goods. If you need an inspiration, here are a few of the looks we'd line up to buy. Don't miss out on this one-time event, see you there!