In the Navy: What to Wear This Weekend
If you live on the East Coast, you may be discovering that the heat is unbearable in your work clothes. Good news: the weekend is just around the corner, and we have a suggestion for a dress that will help you handle the heat without forgoing style.
Soft Joie makes a lovely little ruffled navy dress in a soft, lightweight jersey perfect for a lazy weekend. The navy dress has a simple silhouette with a few feminine details thrown in, like a ruffles at the neckline and braided material for straps. A lightweight stretch belt in white and light cognac keep the airiness of the dress grounded and gives a bit of definition. Slip on some mid-height wedges in tan from Clarks to add height and, as a bonus,  your feet will be happy all day. A cuff with some subtle details keeps things streamlined while adding a hint of color. Top off the whole look with bright, nylon tote to add a pop of color and provide a place for everything you need to hit a festival or beach.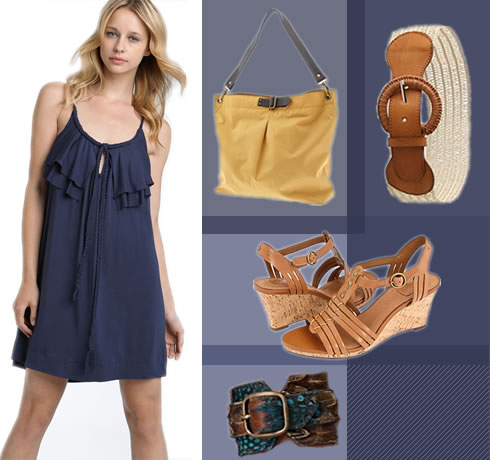 Soft Joie Ruffled Jersey Dress
$158Â  Sizes: XS-L {Nordstrom}
$38 Sizes: S-L {Anthropologie}
$72 Sizes: 5.5-12 {Clarks}
$38 {Free People}
$49.50 Shown in Yellow, also available in Teal, Khaki and Black {Banana Republic}