Vogue Italia Thinks Slave Earrings and 'Ethnic' Style Are Interchangeable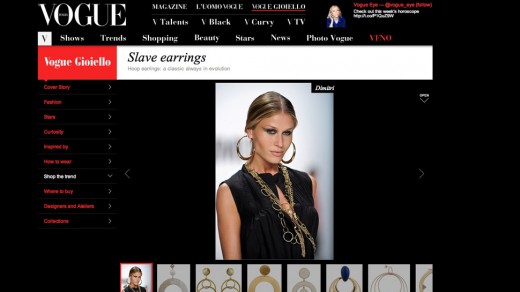 Vogue is a brand that has plenty of experience with insensitivity: American Vogue published a puff piece on the Syrian first couple just as uprisings in North Africa and the Middle East were heating up, French Vogue published a blackface editorial and a piece with children dressed and made up as adults (the latter may have been behind Carine Roitfeld's departure), but we've always held out a bit more hope for Vogue Italia.
Not only for the groundbreaking all Black model issue, which sought to highlight the lack of diversity on runways and in magazine spreads (and went on to sell more copies than any other issue to date), but because of the seeming commitment to carry a more inclusive take on fashion on a regular basis. Even though it was only online, Vogue Italia gave the web Vogue Black and Vogue Curvy, which celebrated two frequently sidelined groups in fashion. It even managed to do it by tapping some of our favorite fashion bloggers in a smart way – very ahead of the curve.
So it's extra disturbing to see how they've handled a feature on hoop earrings.
Yesterday, Jezebel picked up on a piece that originally appeared in Vogue Italia's jewelry section in March 2010. The title? "Slave Earrings."
While the headline is enough to offend to start with, it's the original writeup that really stinks.
"Jewellery has always flirted with circular shapes, especially for use in making earrings. The most classic models are the slave and creole styles in gold hoops.

If the name brings to mind the decorative traditions of the women of colour who were brought to the southern United States during the slave trade, the latest interpretation is pure freedom. Colored stones, symbolic pendants and multiple spheres. And the evolution goes on."

-Anna Bassi for Vogue Gioiello
First "jewellery has always flirted with circular shapes"? That's like saying books have always flirted with paper. Moving on, while there may be some historical accuracy to the shape of "slave and creole" earrings being hoops, we're pretty darn sure they weren't a welcome gift from kindly plantation owners who brought them over for tea and fireside chats.
While historical origins are historical origins, there are some things that will never be in fashion. Involuntary slavery is one of those things. There's a reason military styles aren't described as "fascist fashion" and gold stars aren't presented to people as "gas chamber chic."
Vogue has since backpedaled and changed the headline to "Ethnic Earrings" and completely removed the writeup, after previously editing it to remove specific references to slavery. Still, is it any better?
Fashionista points out that "it's equally frightening that the high fashion magazine, would find the two words–slave and ethnic–interchangeable." So no, not really any better.
While we're not sure of the exact type, earrings and ear piercing date back to ancient Greece, and are even mentioned in the Bible in various contexts (one of which is in reference to slaves), so which "ethnicity" are we talking about? Ancient Jewish people? Ancient Greeks? Perhaps Ancient Germans, considering a quick stop at Wikipedia turns up a pretty old looking hoop from the 6th or 7th century (that pre-dates American slavery, in case your math is off) that was discovered at the grave of a girl from the Alamannic (Germanic) tribe.
The most recent statement on the article reads
"WE'VE DECIDED TO REMOVE THE ARTICLE FROM THE SITE TO PROVE OUR GOOD FAITH AND TO SHOW IT WASN'T OUR INTENTION TO INSULT ANYONE."
And a simple update to title the piece "Circular Earrings" would be nice too.