Liz Claiborne Yanks E-Commerce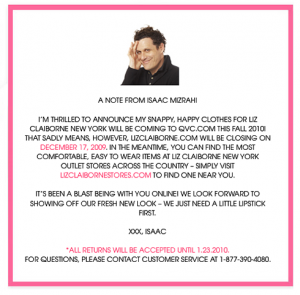 While most fashion labels are turning to e-commerce to boost slumping store sales, Liz Claiborne is going 180 degrees the opposite direction and killing their site's e-commerce functionality.
The move is attributed to a partnership with QVC.com, which will presumably become the sole online shopping destination for the brand. Returns for previous e-commerce orders will be accepted through January 2010.
Read more {Liz Claiborne}