Jimmy Choo Acquired By Labelux for More Than $800 Million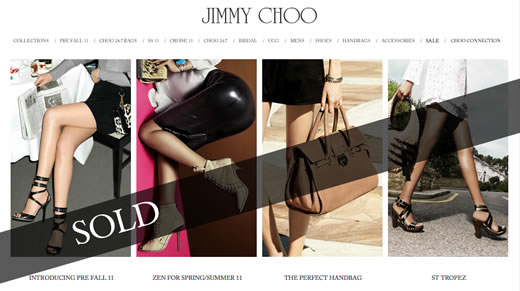 After months of speculation as to who might acquire the 15-year-old luxury shoe and accessory label, Jimmy Choo has been acquired by Labelux for £500 million (approximately $806 million at current exchange rates). {M&A Deals}
Labelux is a privately held Austrian luxury goods company that includes Bally, Derek Lam and Solange Azagury-Partridge in its portfolio. In March of last year CEO Reinhard Mieck hinted at the possibility of an acquisition, though he didn't name any brands specifically. "If we find something which fits fantastically, plus would be available, we might even acquire this year but we are definitely not in a hurry," he said at the time. "We look at the long term potential of brands rather than short-term profitability." {BusinessWeek}
Though other suitors reportedly included luxury behemoths like LVMH, it seems like Labelux's approach may have been a better fit for Jimmy Choo.
With £150 million in 2010 sales (approximately $241.5 million at current exchange rates) the label isn't exactly an emerging brand, but Labelux sees an opportunity for even stronger growth.
"Jimmy Choo is an outstanding brand with enormous growth potential and the ability to deliver material growth synergies across our group," Mieck said.
Labelux is the third company to hold a majority stake in the label, which was launched in 1996. Phoenix Equity Partners first acquired a 51% stake in 2001 for £9 million, which it later sold for £35 million to Lion Capital. Lion Capital also purchased shares from Jimmy Choo's management for £110 million in total, and later sold their shares to TowerBrook Capital for £185 million.
The latest sale is by far the brand's largest, and gives TowerBrook the biggest return of any investor so far. Tamara Mellon, who co-founded the company, has maintained a 17% ownership stake in the company and will continue in her position of creative director. Jimmy Choo CEO Joshua Schulman will also remain in place in his existing role.
The deal is expected to close in June 2011, and may give Jimmy Choo the resources to make a long desired push into the growing Asian luxury market.