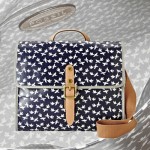 Fossil Bird Print Coated Canvas Key-Per Shoulder Bag, $88 Don't let the many birds on this bag fool you. With more than enough room for daily supplies (binoculars? bread?), and a classic shape and unfussy canvas strap that's casual enough to make this an every day bag, it's anything but flighty. Grab it by the […]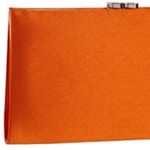 Summer's close to coming to an end, and while not many people will miss the occasional triple-digit temperatures we'll definitely miss the bright colors that are going to give way to the jewel tones spotted all over runways. Perhaps that's why we're giving lingering looks to orange pieces these days – it's the perfect transitional shade that looks right among summer's brights, but it's equally at home among traditional autumn colors. So while we're hoping for a few holdover warm weather days that extend the shelf life of certain summer pieces, we're more than ready to jump into the clutches of these little, bright beauties. Orange you? (don't worry, we'll only use that once)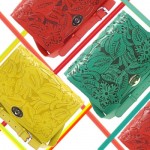 Bright colors are everywhere this year, which loyal readers may know we kind of love. In browsing for a few bright bags to bring those of you who are still attached to neutrals or a favorite little black dress, we noticed that a good portion of the bags we were bookmarking were from London-based etailer ASOS. So, this week we're highlighting all of the brights (get it?) that made us considering spending a small fortune in ASOS' bag section.
In addition to the variety of brights, the floral tooled detail on this satchel adds to the warm weather charm and makes a bag with a classic shape and simple style unique.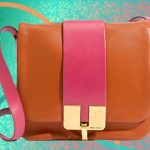 If you want to go more luxe than laid back with your crossbody, this pink and orange beauty that captures the 70s glamour of Marc Jacobs' spring collection (you'll be time traveling again to the '40s for fall, enjoy it now) is one of our favorites. The brown version has its own vintage charm, but this color combination is perfect for the season and maybe even beyond if you're not ready to return to the structured neutrals a few months away.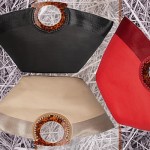 Most of the straw purses on our list this week were a bit non-traditional. That was so we could save this tote for last. The Maia Straw Gancini Rascello Tote is classic in the best way possible. It's decidedly best poolside or at the beach, but the fan shape, tortoise print handle and contrasting band at the top will undoubtedly be a style staple that lasts for many summers to come.
No one likes a snake in the grass, but Ghibli makes snake on grass looks pretty good. Our previous picks were focused on straw bags of the non-tote variety. If you're looking for options in the traditional straw tote vein with some versatility, contrasting trim in a different material helps to keep things from heading in the "only for the beach" direction. On this tote we like the woven handles that pick up on the texture of the straw body, and the various shades in the python trim that add a bit of luxe differentiation from every other straw tote out there.
Keeping things going with the straw bags that don't look like the typical straw bag theme, we couldn't resist this patent leather trimmed, hand embroidered number. Fendi fans will already be familiar with the classic baguette shape, and while the price is a bit more than your classic straw bag, it's the atypical blend of texture and color that puts it on our list today.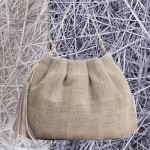 The Furla bag of the season is probably the translucent bags that sold out faster than you could say jelly, but there are quite a few seasonal bags from the brand that are just as covetable (though we'll admittedly be checking back for the jelly bags on a regular basis). The Furla Straw Blossom Tracolla Drawstring Bag, $375 @Macy's covers a few of those bases, and is definitely one for the wish list. Summer ready straw? Check. That doesn't literally look like straw? Check.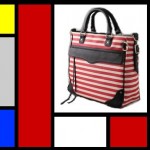 We're in the mood for Mondrian this week with color blocking, white and primary colors surrounded by contrasting trim and the fundamentals that were the hallmark of the Dutch painter.
Today, we see a bit of that in the form of red and white stripes on Rebecca Minkoff's Dear Tote, $395 @Shopbop.